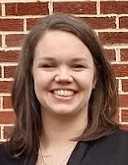 Crystal Levine (President) Bio
After several years of serving in various PTA roles in Virginia, I came to South Carolina excited to become involved in my children's new school. I jumped right in and am now serving a second term as President. My family and I moved to Lexington from the Washington, DC area last year.  I have three children:  Hannah, who is in 7th grade at PHMS; Addie, who is in 5th grade; and Isaac, who is in 3rd.  We are an "outdoorsy" family and enjoy kayaking, hiking, camping, and various types of water skiing at Lake Murray.  We also love to travel and do it any chance we get.  Personally, I am also a reader.  I seem to be drawn to historical fiction but enjoy most genres.  However, I spend most of my time doing PTA work here at PHES, at PHMS, and at the state level.  I also volunteer with the 8-11 year old girls group at my church and at a family history center twice a week teaching patrons about genealogy.
Leigh Glenn (Vice President) Bio
"I joined the PTA after being a Room Parent for several years. I wanted to be more involved in my daughter's education and felt I could contribute more at a higher level. Serving on the PTA has given me a larger scale to not only support my child, and her individual teachers, but also contribute to the education of all our students and support our amazing team of teachers and staff. I am currently serving as Vice President and am able to accomplish both goals by managing our grant program, both for the PTA, and our Staff, and serve as Staff Liaison. "
This is Leigh's 5th year as a PHES parent and 2nd year serving on the PTA Board. Leigh also served on the Board as Staff Appreciation Chair. Leigh and her husband moved to Lexington in 2015.  They have one daughter, Chloe, in the 3rd grade.  Outside of school, they spend most of their time watching Chloe in her various extracurricular activities, traveling, and spending time with family. Professionally, Leigh works full time as a Paralegal for a Law Firm.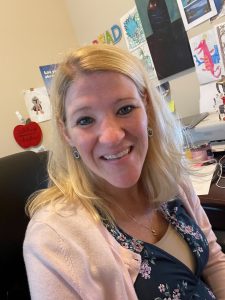 Kristen Archie (Secretary) Bio
I joined PTA four years ago because I love supporting my school, teachers, and staff and I love being involved with the planning of events! I am great at taking notes, so that was why I started in this position as secretary. I have two kids at PHES both in the Spanish immersion program in kindergarten and third grade. I am a Spanish teacher and really enjoy traveling and spending time with my family!
Greta Stewart (Diversity, Equity, & Inclusion Chair) Bio
My name is Greta Stewart. I have been a teacher for 16 years and teach 3rd grade at PHES currently. I have a bonus son who is 21 and lives in Indiana, a bonus daughter who is 20 and attends UofSC, and a daughter who is 6 and in first grade immersion at PHES. Due to my husband's service in the United States Air Force, I have had the opportunity to teach all around the world (England, Bahrain, Korea, New Mexico, Indiana, and SC). This experience has made me value different cultures. When the role of Diversity, Equity, and Inclusion (DEI) chair opened up, I knew it would be a great fit for me. It is my goal and passion to help EVERY child and family at PHES feel accepted, valued, and included.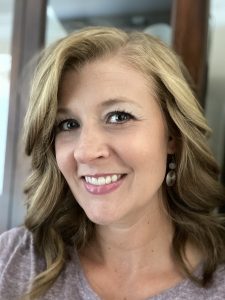 Marett McClure (Events Co-Chair) Bio
Marett Bishop is currently serving in her third year as co-chair for our events committee. This position has allowed her to organize events that bring our students, staff, parents and community together. Marett has two children at PHES in 5th and 1st grade. Marett works at Mission Lexington as the Director of Social Services where she works to serve those in need in our community. She is a die-hard Clemson fan, loves spending time with her friends and family, traveling and live music.
Kayla Everhart (Fundraising)
Kayla Everhart is serving her 2nd term as Fundraising Committee Chair. She has 1 child, a 3rd grader. She enjoys working to promote inclusion and teamwork within PHES through the PTA.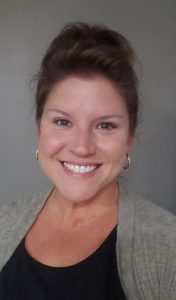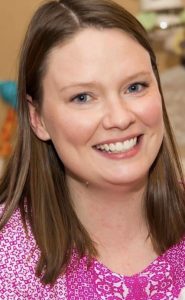 April Sorenson (Volunteer and member Recruitment) Bio
I knew I wanted to be a part of PTA in some way from the moment my children started at PHES. I started as a room parent and have since taken on the role of Membership and Volunteer Recruitment Chair. I went to USC
and earned a BA in Early Childhood Education. It was at USC where I met my husband of 11 years, Patrick. We have 2 beautiful daughters,  Chloe in 3rd grade, and Madison in Kindergarten. We also have 3 dogs and 2 cats that we love. We are all very happy to be a part of the PHES family!
Bridget (treasurer)
I am Bridget Allison a native of Atlanta, GA. My husband and I have 3 wonderful children, Taylor 18 who is a freshman at Clemson, Harrison 5 who is in Kindergarten at PHES, and Mason who is 2 going Terrific! I am a 14 year educator. I currently serve as an Administrator in a neighboring district. Education is my passion and I understand the immense responsibilty required to support student learning. I am excited to serve as the Treasurer of the PHES PTA! I look forward to supporting the Parents, Staff and Students this year. I truely believe in the power of an effective home-school connection and am committed to serving this wonderful community! Go Cougars!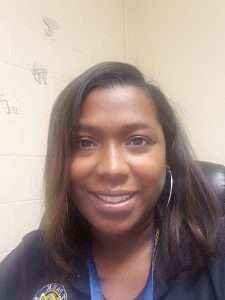 Elaine Cain (Events Co-Chair)
My name is Elaine Cain and I was born and raised here in Lexington. I am married with two children, Emery (4th grade) and Tucker (kindergarten). I work in Lexington at Sandhills Family Medicine as a Nurse Practitioner.  I joined the PTA as I wanted to be involved at my children's school.  We have always enjoyed the events as a family and I enjoy helping to plan events and set them up for others to enjoy.
Brittany Collinson (Communications)
My name is Brittany Collinson and I have lived in Lexington for a few years now.  My husband is from this area, so we moved back when we left active duty overseas. I have one son currently attending PHES in the Spanish Immersion program.  I also have one cougar cub who will be attending in a couple years.  I wanted to join the PTA in order to get more involved in my son's school and to help out where I could.  I've found in very rewarding, and we'd be glad to have more come onboard!